Fort Smith's Arkansas Colleges of Health Education set to start new master of public health degree program in 2024
by Thomas Saccente | January 29, 2023 at 1:00 a.m.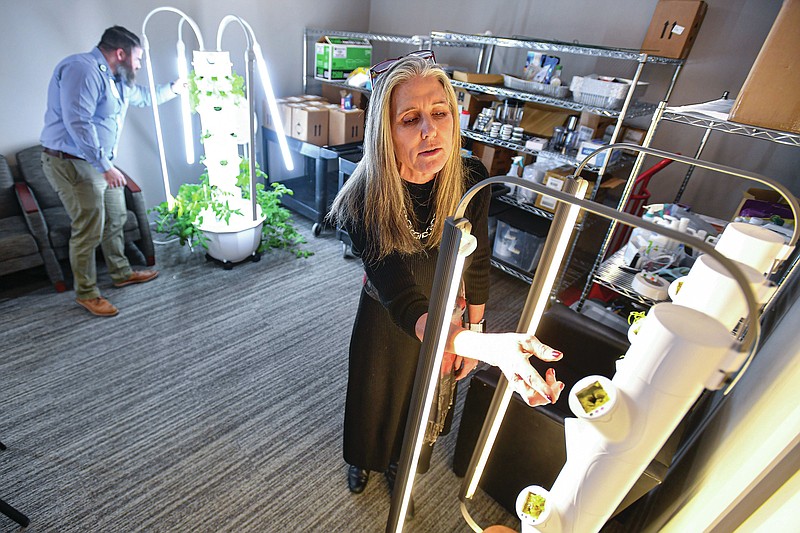 Elizabeth McClain, Arkansas Colleges of Health Education chief wellness officer, and Blake Metcalf, ACHE director of clinical and community nutrition, tend to tower gardens, Thursday, Jan. 26, 2023, at the ACHE Research Institute Health and Wellness Center in Fort Smith. ACHE received approval from the Higher Learning Commission to begin a new master of public health degree, which will offer two concentration areas in nutrition and rural and community health, starting in the 2024 fall semester. Visit nwaonline.com/photo for today's photo gallery. (NWA Democrat-Gazette/Hank Layton)
FORT SMITH — Arkansas Colleges of Health Education officials believe their new graduate degree program will bolster both the school's offerings and health in the community.
The school announced Jan. 18 the Higher Learning Commission, a regional accrediting organization, gave it the go-ahead to launch a master of public health degree with a scheduled start in fall 2024. Students in the program will be able to concentrate in either nutrition or rural and community health.
The new program is designed to complement the school's other graduate programs and provide people working in public health a chance to expand their credentials, according to a news release. The institution is already home to doctorate programs in osteopathic medicine, occupational therapy and physical therapy, as well as a master of science program in biomedicine.
The program will also support community health and nutrition outreach engaged by the colleges' Research Institute Health and Wellness Center.
"We are excited to add this additional degree to our programs as it closely aligns with the ACHE mission of addressing the overall wellness and quality of life of our region," Kyle Parker, president and chief executive officer, said in the release.
Benny Gooden, senior executive assistant to the provost, said Monday many public health programs "parallel" other degree programs institutions offer to help people better understand the environment in which they are probably going to work.
HEALTH OUTCOMES
Elizabeth McClain, the school's chief wellness officer and director of the new master's program, said the colleges looked at what it could do to improve Arkansas' health outcomes when devising the program.
The United Health Foundation's America's Health Rankings platform ranked Arkansas the 48th healthiest state in its 2022 report, surpassing only Mississippi and Louisiana. The ranking was based on ratings of measures across five categories of health. These included:
• Social and economic factors: Community and family safety, economic resources, education and social support and engagement.
• Physical environment: Air and water quality and housing and transit.
• Clinical care: Access to care, preventive clinical services and quality of care.